The Village In A Nutshell
This village was originally built for fun, but now it is moving into higher stages. It has moved from a personal creation, to being a soon to be an RPG map (if backed by popular demand...). As I have improved, so has the village.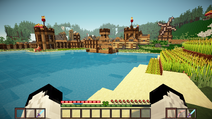 I have recently installed the Shaders Mod, and will use it when taking Screenshots. Excuse Chunk Errors, I am running an Asus, not made for gaming. :/ (
Note:
Screenshots are taken with a texturepack of my own creation which I am not ready to release, and not of the Shaders
.)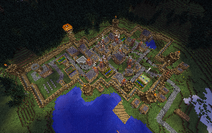 Here are the credits:
- CT_7890 === Village Building and Planning
-Dak47922 === Village Name and Technical Support
-The Toxic === Support and Overall Bronyus Outputer
-OneTruDude83 === Close Personal Friend and Technical                          Support
-ConwayCraft === Introduced Me To Minecraft
UPDATE: 1.7.6b
I've started updating shops, and adding surrounding landmarks.
+ Pasted Village Into New World. (Using WorldPaint)
+ Added New 'Shilling' Item. Is Used For Trading In Villages. (Gold Nugget)
+ Added Surrounding Smaller Villages
+ Villagers Now Have Nameplates
- Removed Herobrine
- The Above Line Is Bulls#it
- Mojang Removed Him In 1.6
- This Changelog Now Has No Purpose
Ad blocker interference detected!
Wikia is a free-to-use site that makes money from advertising. We have a modified experience for viewers using ad blockers

Wikia is not accessible if you've made further modifications. Remove the custom ad blocker rule(s) and the page will load as expected.