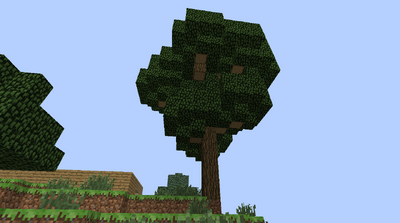 I decided to start an island survival map. Once I chopped down my first tree I obtained only 2 saplings, both of which I planted immediately. The first one that had grown was rather small. Right as I was about to start chopping it, this huge behemoth tree grew! I think that I am going to leave it up and make it in to a tree-house!
Seed!
Although this seed won't have the giant tree it is fun to play. The map contains two medium sized islands.

Warning: On the island that you don't spawn on, there is an exposed double dungeon with two zombie spawners and four chests!
Seed:
761901369131881790
Ad blocker interference detected!
Wikia is a free-to-use site that makes money from advertising. We have a modified experience for viewers using ad blockers

Wikia is not accessible if you've made further modifications. Remove the custom ad blocker rule(s) and the page will load as expected.