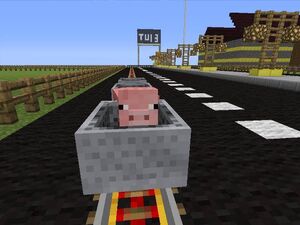 Minecarts and Animals, is a concept that features animals riding in minecarts, and racing on a track.
How To Play
Start off by placing down some rails, or by building a rail racetrack. Next, place down one or more minecarts. Push the minecarts so they begin to move. Next, place animals in the middle of the tracks. Eventually, the animals will become trapped in the minecarts and will race around the track!
Ad blocker interference detected!
Wikia is a free-to-use site that makes money from advertising. We have a modified experience for viewers using ad blockers

Wikia is not accessible if you've made further modifications. Remove the custom ad blocker rule(s) and the page will load as expected.