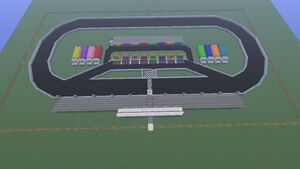 The Oval Racetrack, is a racetrack creation made by AmericaRacing89 and PandaBoy2288. The track is mainly used for the MASCAR and MARCA Racing Series and resembles that of a standard 1.5 mile oval track used in NASCAR such as Atlanta Motor Speedway or Texas Motor Speedway.
PandaBoy2288
The PandaBoy2288 version of the track features more of a full infield unlike AmericaRacing89's version. The track also features lights for night racing as well as a better made Victory Lane and exterior
AmericaRacing89
The AmericaRacing89 features a much different infield with a little less to see but with different drivers listed on the track as well as a different version of the flag stand.
Overall
Despite some minor differences, both tracks are very similar and any race fan will enjoy taking a tour.
Trivia
Both creators have also made/making a road course variant.
Ad blocker interference detected!
Wikia is a free-to-use site that makes money from advertising. We have a modified experience for viewers using ad blockers

Wikia is not accessible if you've made further modifications. Remove the custom ad blocker rule(s) and the page will load as expected.