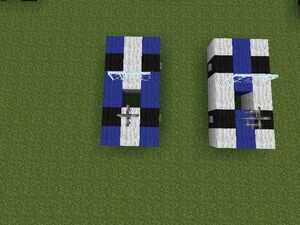 The Shelby Cobra GT, is a vehicle created in Minecraft by PandaBoy2288. It resembles that of the classic car of the same name and contains many of the same features and colors of the real life car.
Model
The car is based off the classic car, the Shelby Cobra GT. The car was created by PandaBoy2288 and was adopted by AmericaRacing89 in his world. There are three different versions of the car as well as a rare "barn find" edition in the world.
Colors
Blue with White stripe
White with Blue stripe
Yellow with Black stripe
Gallery
Trivia
The blue and white variants are based off the real life car.

The Yellow and Black variant is based off of Jimmie Johnson's 2013 Chevy SS
Ad blocker interference detected!
Wikia is a free-to-use site that makes money from advertising. We have a modified experience for viewers using ad blockers

Wikia is not accessible if you've made further modifications. Remove the custom ad blocker rule(s) and the page will load as expected.