Ok, so yesterday was a particularly fun day! Marc Watson from Mojang and the people from MC pro hosting are planning to break the world record for the most people on a minecraft server at one time. (which is currently around 2600) Yesterday (the 29th) Marc decided to open a server to test its limits. While I was connected I saw anywhere from 200 to 700 people on the server. The best part about this test was the large amount of famous Minecrafters there. Of course I took some screenshots so enjoy!
---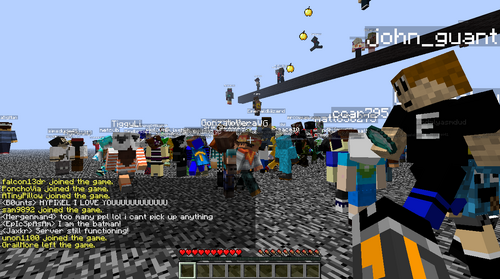 What I saw when I first joined!
---
Here are some famous Minecrafters! How many can you spot?
---
I even saw Notch and Jeb but i couldn't get a picture.
Ad blocker interference detected!
Wikia is a free-to-use site that makes money from advertising. We have a modified experience for viewers using ad blockers

Wikia is not accessible if you've made further modifications. Remove the custom ad blocker rule(s) and the page will load as expected.