So one of these days and nights also, and I was really checking out my new survival map, for me it is the best seed so far. Well, who would imagine after traveling my spawn point in a radius of 1000 blocks I found SEVEN Abandoned Mineshafts, too bad there are only 3 diamonds in total. How about this when I created a Nether portal using 11 buckets (you really should know how that works, duh?), on top of you is a ready-to-be explored Nether Fortress, like for real, it is like Stark Industries starting from New York to Beijing, FINALLY, as we all know Abandoned Mineshafts and Fortresses are not the rarest of them NGS, but it is the Stronghold, luckily under my house, is one. Anyways, that is not what I will be talking, but if you like  just comment and pm me, and I will give you the seed.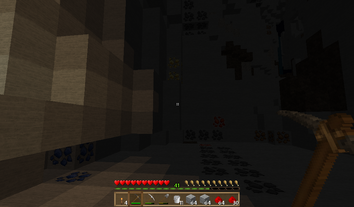 There are clumps, bucksters, and clogs of ores, right there. But do not look at those gold and redstones, but at the lapis lazuli, That was my first death for a mining guy like me. I lost those 64+30 redstone dusts, and 11 buckets with 3 iron pickaxes. Really should have never done that.
So I Conclude:
(NEVER EVER STEP ON WHAT YOU ARE MINING)
(ALWAYS BE CONSCIOUS OF WHAT YOU ARE DOING)
(ALWAYS BRING A SWORD AND LOTS OF FOOD AND ARROW)
(BE SMART)
(KNOW THE BATTLEFIELD BETTER THAN THE GHASTS AND BLAZES)
(NEVER FIGHT AN ENDERMAN WITH ONE HEART AND STONESWORD)
(DO NOT SPRINT AND JUMP IN HELL, EXCEPT IF YOU'RE NOTCH)
(AS FAR AS POSSIBLE, EXPLORE YOUR WHOLE WORLD BEFORE DELETING IT)
Ad blocker interference detected!
Wikia is a free-to-use site that makes money from advertising. We have a modified experience for viewers using ad blockers

Wikia is not accessible if you've made further modifications. Remove the custom ad blocker rule(s) and the page will load as expected.